Category: Translation  &  Business         Written by: Daqeeq          Date: 26 May 2021
How translation services help salvage world economy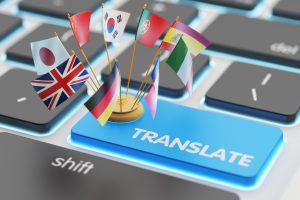 Forget about multi-nationals. Can you imagine any kind of business: small, medium or large that can survive if monolingual?
One might think that interpretation, localization and translation services in general are mere back-office services that help overcome the language barrier between partners, or service providers and target customers. that are not vital for businesses.
Experts beg to differ. These services are, in fact, crucial for saving the global economy. Government agencies need translation because it is mandatory to prepare deals and contracts in the national language, and all foreign companies need translation when they have business with a government agency overseas. For a company with a plan to enter the global market, translation service is indispensable to succeed in new markets. For SMEs and start-ups, and even non-for-profit projects, bilingual services are vital to communicate with sponsors, governments, embassies, incubators and other players.
For a world hit hard by the repercussions of COVID-19, economic revival is synonymous to expansion, outreach, cooperation, interaction, or simply, communication.
Can we imagine any business activity without communication? The world needs to open up in the aftermath of the pandemic, which has taught nations that no country can work alone. How can that be done without translation professionals who can understand and efficiently convey the messages, campaign literature and documents exchanged between business partners?
The benefits of translation as a globally demanded service are numerous, but the most significant is that, if done professionally and accurately, taking the cultural aspect in consideration, is that they can help companies increase their profitability. This can be achieved through selecting a professional agency that can interpret your messages in a way that resonates well with the target audience. These messages are transmitted through multiple channels and formats, including advertising campaigns, press releases, social media posts, product descriptions, and email shots, among others. Experts maintain that the process is cost effective, because the expenses paid to professional translators can be offset through the increased profitability.
The most agreed-on caution is that businesses should not rush into machine translation, which might sabotage the entire campaign. Machine translation might be helpful only with a human talent intervention in the post-translation process.
Therefore, in parallel with the design of marketing campaigns, businesses seeking a global foothold in markets across the world should first pick the right partner to carry out the translation process.  Such a partner should possess certain qualities and meet specific requirements, including, but not limited to, perfectly accurate rendition of the messages intended for the target customers.
The agency should also be offering a complete package of services, including heavy and soft editing, and localization. In other words, it should be a one-stop-shop.
Apart from that, there are facts that should not be overlooked. According to statista.com, the global translation industry is worth around $56 billion in 2021, given the fact that the profession has not been affected by coronavirus the same way other industries have. It is a significant component of the global economy and is a huge employer. In the US alone in 2020, the number of employees in the interpreting and translation industry was around 57,000, according to the same source.