Category: E Business       Written by: Daqeeq          Date: 14 Jan 2021
World big retailers eye Middle East expansion, as Dubai offers warm welcome
DAQEEQ (Dubai) ­­–– International expansion has become a priority for many global retailers in recent years, with these companies eager to grow digitally overseas, according to retail-week.com.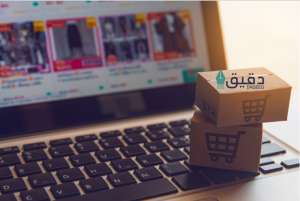 One reason behind this expected trend is that retailers look for new ecommerce hotspots to leverage growth amid the coronavirus crisis. The Middle East is the target, where internet penetration stands at 70%, while wealth and investment making it ripe for expansion opportunities.
According to a survey conducted by Statista, following the outbreak of Covid-19 almost half (47%) of respondents in Saudi Arabia were shopping online more frequently.
While product is one of the key considerations for this market, the Middle East's online growth is accelerating at an impressive rate and retailers should not be deterred by changes they may need to make to optimise their business for growth in this area.
The UAE, for example, has the highest smartphone penetration rate globally at 83%. Furthermore, more than 70% of the population use social-media sites daily across the Gulf Cooperation Council countries.
While many social media channels are popular, Instagram has the edge in this region.
Across the Middle East, Instagram has 63 million users in total, representing about 10% of global users for the platform – an impressive feat given that, population-wise, the Middle East makes up only 3%.
These statistics can be explained somewhat by the huge proportion of young people living in this area. More than 28% of the population are between the ages of 15 and 29.
Tapping into the smartphone usage among these demographics is a surefire way to ride the upward trend of ecommerce across the Middle East.
However, challenges exist. Local partnerships can really assist in helping to navigate the cultural nuances, according to the magazine.
Delivery is one key obstacle retailers must overcome as many countries do not have a postcode system and some streets have informal names, names in multiple languages or simply no name at all.
Yet there have been innovations to help conquer this challenge. For example, start-up Fetchr helps pinpoint an exact location using mobile phone GPS co-ordinates, rather than an address.
Around 62% of MENA online shoppers prefer cash on delivery (COD) as a payment method when buying online
Possibly the biggest and most common challenge facing retailers wanting to launch ecommerce in the Middle East is the preference for COD.
Around 62% of MENA online shoppers prefer COD as a payment method when buying online, according to Bain & Company, which can cause problems to suppliers.
A big pull for retailers to make Dubai their next ecommerce focus is the ability to leverage the city's free-trade zones (FTZs). Dubai Commercity is expected to launch in January
These are special economic zones set up with the objective of offering tax concessions and customs-duty benefits to the businesses that trade there – both online and via bricks and mortar.
The $870m development will enable Commercity 'tenants' to pay zero income or corporation tax. These tenants will also benefit from a one-stop shop of support services, including for immigration, healthcare, administration and banking.
Events are one of the most effective ways to gain support and information about new markets.
Expo 2020 Dubai (now taking place from October 1, 2021 to March 31, 2022) will be a platform for the world to come together again, with this major event inviting governments, businesses, celebrities and members of the public to celebrate innovation and move forward together to tackle urgent priorities facing the planet. It is also an opportunity for retailers to connect with future business partners and customers.
"Need help in localizing your E-commerce business pay us a visit and check out a sample of our professional translation solutions in action with our Arabic version of this article."