Category: Translation          Written by: Daqeeq          Date: 2 Feb 2022
Let's get serious about restaurant menus: Translate, and correctly please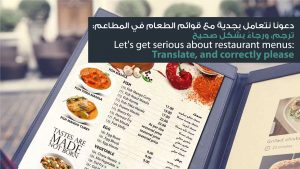 When we think about restaurant menus written in a foreign language in fancy restaurants, comedic associations, and maybe personal memories, kick in.
Especially in classic Arabic comic movies, the laugh lies in the awkwardness of the actor not being able to recognize what's on the menu and tries to hide his or her ignorance. Even in Western cinema, the hilarious scene of Mr. Bean on a holiday to France and trying to get a bite at a French restaurant demonstrates the concept clearly, and amuses audiences in the process.
The other manifestation of this is the Google-translated menus and the funny, ridiculous results, that go viral on social media platforms and smart phone apps almost everywhere in the world.
The names of dishes served at restaurants might sound fancier in French or English, but the world has changed and will further change after Covid becomes history. We will have a larger flow of tourists, especially with the rise of budget airlines and the easy communication between individuals from different cultures that encourages people to visit other places and meet people.
Let's not forget that the past three decades have witnessed huge waves of refugees and immigration that saw millions of people settling down in other communities, like Syrians and Iraqis in Europe and North America. These people need to eat and need to know what they are eating.
There are, of course, cultural reasons that make not only translation, but more detailed descriptions of menu items, maybe on the website of the restaurant, a must. Muslims and Jews, for example, need to know if there is pork or any part of the pig in the ingredients and most Hindus are vegetarian, while meat-eaters among them do not eat beef for religious reasons.
Forget about all types of advertisement, whether traditional or digital, the word of mouth is the most effective. Restaurant managers should keep this in mind and make sure that sending their menus to a professional translation agency, with insight and deep understanding of cultural differences might save the entire business.
The solution can be very easy. A QR Code on the menu will take customers to the restaurant's website, where they will find a multi-lingual material explaining everything, starting from an accurate translation of the names of dishes to more detailed explanation of the dish, its history and cultural aspects and any other information customers should know.