Category: Localization          Written by: Daqeeq          Date: 18 Jan 2022
Localization equals more revenues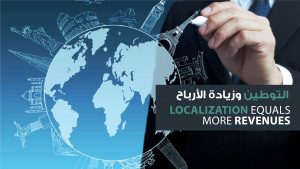 At this age, it is not enough to have a good-quality product that enjoys demand among the public to make money. With the flood of products and startups emerging here and there with many ideas and products, you need to be distinguished to stand out from the crowd and gain revenues.
Emerging ways of marketing are beyond our grasp with Metaverse, traditional social media might gradually lose audience and become obsolete in a decade or so and new approaches are going to prevail.
It's all about giving your customer a personal experience, and you can't do so if you're not speaking using his own words, meaning talking in his dialect, using the currency he deals with, etc. It's not enough to speak the language anymore; you need to dive more and provide a totally localized experience that guarantees that your customer journey is enjoyable and resulting in using your product again and again and thus generating revenues.
So, how will localization increase your revenue?
Localization is speaking to your customers in their own language and dialect; it helps build a personal relationship between your company and the customer. It also shows that you value your customer and your customer care would go the extra mile for them.

Statistics prove that customers spend more time on a website that supports their language as opposed to another one that doesn't. More time on your website/app definitely means more revenues

Customers prefer local products over global, they are looking for locally-sourced produce and are interested in regional foods and tradition. For some, the "local" label is becoming a stronger buying criterion than "organic". Localization takes your global business and localizes it for you by using region-specific keywords, phrases, and language.

Shocking fact, Yahoo, although it suffered from devaluation over the last decade, is much more popular than Google in Japan and the main reason for that is localization as it has more localized contents convenient for Japanese than Google.

Localization will cut your customer support costs, as customers will have it easier to find solutions to their problems in their own language.
In Daqeeq we are ready and well equipped to localize your business and help generate more revenues.