Category: 

Biography

          Written by: Daqeeq          Date: 19 Oct 2021
Rifa'a Al-Tahtawi, the cleric-turned-icon of Arab renaissance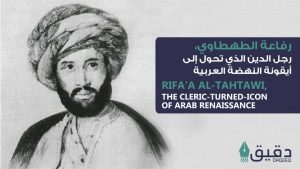 Rifa'a Al-Tahtawi (1801-1873) was merely a 25-year-old chaplain accompanying a group of students on a scholarship studying in France as part of a program launched by Egypt's ruler, Mohammad Ali.  The strong man of Egypt, who ascended to power in 1805, dispatched young Egyptians to the West to transfer the new technologies to Egypt.
At home, according to the Middle East Studies Journal (Issue 32), the semi-independent leader established schools and technical institutes, coupled with a printing press, and sponsored a translation drive that saw the new knowledge rendered into Arabic and made accessible to all.
Tahtawi, who was born in the village of Tahta in Sohag, came back from the mission equipped with mastery of French and a new look at life and the prevalent culture of "misconceptions". His name is remembered as an icon of the Arab renaissance, the 19th-century movement inspired by Egypt's and the Levant's access to the West, led by him and scholars such as Ahmad Fares Al-Shidyaq, Butrus Al-Bustani and others.
When Tahtawi returned home in 1836 and became the principal of the Cairo-based School of Languages and later the director in charge of a translation bureau handling the rendition of books on history, geography, and military sciences, he was not merely challenged with finding Arabic equivalents to the emerging scientific terminology in the countries of origin, but he was rather expected to reconciliate that with the Islamic-Arabic culture. In fact, his works came under attack during the reign of Khedive Abbas I, and was sent to Khartoum where he served as a school teacher when Sudan was under the Egyptian rule, before the new ruler, Khedive Said, brought him back to Cairo to resume his scholarly pursuit.
Tahtawi is acclaimed for his "contribution to the lexical development" of Arabic and for being the champion of Islamic modernism. Tahtawi, who translated and oversaw the translation of more than 2,000 books into Arabic, believed that in its essence, Islam was compatible with European modernity. In fact, Routledge Encyclopedia of Modernism's entry on Tahtawi introduces him as "an Egyptian reformer and thinker who is widely recognized as the pioneer of the Egyptian 'Awakening' (nahda) in the 19th century. He stands at the cultural heart of the intellectual awakening of Egypt's modernization movement that sought to import and implement military, scientific, technical, and educational innovations from the West."
The topics of his written and translated books give a good idea about his contribution, such as the "Arabization of the Trade Law" in 1868, "The Arabization of the French Civil Law (1866) and "Unequivocal Arabization Approach to Geography," published in 1835.