Category: Translation              Written by: Daqeeq          Date: 10 Feb 2021
Steps You should follow to guarantee high-quality translation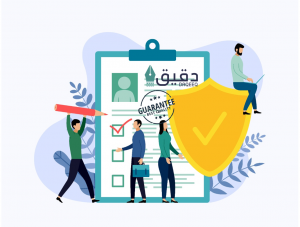 We always look for quality in everything we do in life, and translation and localization are no exception. To guarantee that your clients are happy, you should always provide the services and products to meet their expectations and needs. Especially when your business is growing internationally, you will definitely need a high-quality translation for your social media platforms, product packaging, and website, and we know that sometimes it might be hard to maintain the same level of quality of the text. So, in this article we will tell you some steps that will guarantee you a high-quality translation.
Choose the right translator for each field
The first step you should follow is to choose the right translator, a native speaker, for the right field. Only a native translator will be able to render correct the main idea and theme of your original text. Make sure you give the translator all the details concerning the document you need to translate.
Make sure s/he is a certified translator and an expert in the area of your business field; so, if you are translating content for your Facebook, then you need a translator with expertise in social media.
Offering the translator a style guide or glossary
Before starting to work with a new translator, it is very important to give them some background on your brand.
A styleguide will define the language rules that you are looking for in your specific brand, including guidelines about the preferred tone of voice, whereas a glossary includes a list of specific terms that are commonly used by the brand together with the equivalents in the target language.
Show your translator your past translation work that you liked, and what you didn't like. In case you do not have any translations in stock, you can take a look at other companies' content and share examples of what you consider "good" and "bad" translations for your content.
Using a CAT Tool to ensure consistency
A CAT tool and translation memory are a linguistic database where all the translated content for a specific brand is stored. The key benefits of using TMs are that content has been translated and approved previously will not be translated again, ensuring consistency throughout the different files translated for the same brand.
Try to build long-term relationships with your translators
A strong partnership with your translation service provider will improve the experience on all sides and boost the quality standards of the content you receive.
The main thing of this field is to break barriers and build bridges, so that you and your translation service provider can create a long-lasting team if you breed your relationship with mutual respect, communication, and pursuit of mutual goals.
When your translator has a clear understanding of your ideal content, they will definitely deliver quality translation services, for you to achieve your desired results you are seeking for.
Consider Daqeeq as your trusted translation service provider
Daqeeq is a translation platform that ensures you all the points that were listed above and more. Daqeeq works with professionals to translate and proofread your texts, regardless of your translating needs. We supply a competitive price, online, live, and instant services that are available 24\7. For a high-quality translation service, contact Daqeeq today and remember: it's never too late or too early to hire the right translator for your business.