Category: Business & E Business       Written by: Daqeeq      Date: 05 Jan 2021
Working remotely is the new 9 – 5
Reasons behind the rise of working remotely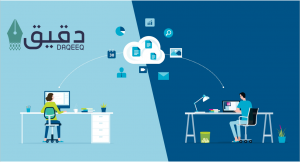 Let's face it; the world is changing dramatically and everything is being done remotely for so many reasons. First, the massive spread of social media has affected everyday lifestyle to the extent that even the busiest of us spends at least one hour on social media whether for news, information, fun TikTok videos or even memes. Second, coronavirus has made the transition to working remotely way faster since working from home is lockdown resistant, all you need is Internet connection and a laptop, as simple as that and you're good to go.
Working remotely was and still is a foreign concept in our region but due to Coronavirus, it's becoming widely spread, acceptable and it's proving to be fruitful and it cuts unnecessary costs. But it's hard for some lines of business to move to working remotely, which requires ditching the old-fashioned approach and embracing a whole new one.
Third, 5G, is a game changer and is one of the most heated races between the two superpowers, China and USA, because the one who gets to it first and export it to the rest of the world would control it. 5G will make working remotely possible for all kinds of jobs. With it's almost zero latency and lack of lag, a surgeon can perform the most complicated and time-critical surgeries while being in another continent.
All the above signifies that the following decade will be the decade of working remotely in all domains.
Transition to working remotely
Doing your job from your couch was less mainstream before– and even stigmatized. But the attitudes towards working from home are finally changing. Many firms including Fujitsu and Twitter have already announced plans to make remote work a permanent option, even after the pandemic. To back all that up, a study found that remote work upped productivity 13% even though for some people, it is distracting and draining.
The transition to working remotely has gone to a new level when Dubai, in the United Arab Emirates, have recently created visa program to attract remote workers during the pandemic.
Here are some fascinating facts about working remotely in 2020:
77% of telecommuters report being more productive

30% of telecommuters save upward of $5,000 a year

$11,000 is how much companies can save annually for each employee that works remotely half-time

People who work remotely earn $4,000 more per year on average

99% of remote workers want to continue telecommuting in the future

90% of remote workers would recommend working remotely to a friend
Plus, working remotely provide an unprecedented freedom for employees; you can choose to work from home, your favorite café, or even in your bathing suit enjoying sunshine and the fresh breeze of the sea.
Is it all good?
So far, we've talked about the perks of working remotely, but what about its pitfalls; are there any?
At Facebook, which has said it expects to make as much as half of its full-time jobs remote over the next 10 years, people miss the mini-kitchens and team lunches. One executive there said it's not so much the perks themselves as it is the connection they provided. "It's hard to reproduce the magic," he said. "People don't want to spend any more time connecting over video chat than they have to."
While working remotely enhances the employee's life regarding family time, flexibility, mental health, and work-life balance, it has some challenges like distractions, collaboration and communication issues, no designated office space, and IT/infrastructure issues.
So, all in all I think that not everybody is made for working remotely. Some people lack the discipline it takes to focus in an entirely newly distracting environment, especially if said person is working from home. Others simply can't work without the buzz of a busy office or the casual banter of their cubicle colleagues. Whatever the reason, not everyone is suited to remote work – and that's okay.
Translation industry was ahead in working remotely
The translation industry has been home to both remote workers and freelancers for years. The nature of translation lends itself to workers being in quiet environments where they can work undisturbed, rather than in noisy, hectic offices where it's less easy to focus.
Not all translators work from home, of course, but many do. Some of those who translate for a living do so as freelancers, but there are also translators who are employed part-time and fulltime by translation companies and who carry out their translation work from home.
Daqeeq.co, English <> Arabic translation platform, took it a step further. A great part of the team works remotely, even the core team never met in person; they built their relationship through online meetings, chat platforms, and emails.
Conclusion
Working remotely is taking the world by storm. Companies from both the advanced and the developing world handed their employees laptops and told them to work from home. It's not suitable for everyone and it suits some sectors more than others.
For me, remote work is possibly the best work arrangement if you want to manage your personal life better while staying productive at your work. However, there are some shortcomings of remote work that you need to consider and have to push yourself to successfully overcome them. The pros and cons of working remotely mentioned in this article can help you know remote work better and make the right decision to either work as a telecommuter or not.