Category: E-Business          Written by: Daqeeq          Date: 25 Aug 2021
Latest AI technologies in retail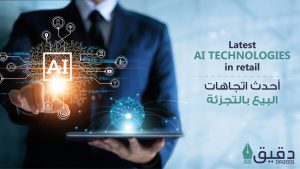 Artificial intelligence is shaping up our digital world, with its endless possibilities it has blown away most of our traditional ways. In this article, we're not going to talk about AI and its effect on the translation industry. We're going to talk about how AI changed the retail world and the latest AI trends applied in this domain and how Daqeeq can help you in all that.
In a world that's beginning the healing process from a pandemic that changed so many rules and established so many others, with the rise of AI and the ever-increasing computational powers of our handheld gadgets, and as we know drastic changes motivates innovation. All that lead the decline of real-life stores and the rise of E-commerce.
According to a report conducted by Gartner, 77% of retailers plan to have some kind of AI in place in their business operations this year.
So, the world of retail selling is going through major changes from old-fashioned stores to e-stores pushed by social distancing and the advancement of AI. What are the trends that we're looking at in 2021 that should be on your radar as a business owner, let's talk about some of them:
Personalized recommendation:
With tons of data to analyze and sort out providing a personalized experience for each site visitor was a fantasy and required a dedicated human expert and only provided to VIP visitors who are able to pay its price. But with AI it's possible to provide customized recommendations to each individual for free.
Also, Netflix not only saves $1B each year through AI-powered systems, but it also provides 75% of content to users through personalized recommendations.
Chatbots:
No one likes to wait on the phone listening to some classical music waiting for a salesperson to pick up and answer their questions. When deciding to buy a piece of garment a split of a second can change the buyer's decision making him choose another vendor.
Chatbots are the solution, they allow customers to find solutions to common problems without having to wait to talk to someone. Having a well-prepared Chatbot that supports multi-languages can put you way ahead of your competitors and we can help you with that.
Visual search:
Though visual search is still in its early stages compared to its text counterpart, visual search is very promising with a market value estimated at around $30B and set to grow in the coming years.
Visual search has already helped in customer experiences, with Google, Kiddle, and ASOS leading the charge. With this in mind, it makes sense to prep your website search function for future image-based queries.
Let's help you in localizing your AI-powered chatbot, please visit our website to find out more.